Rangjung Rigpe Dorje, His Holiness the 16th Gyalwa Karmapa
A fully enlightened master, the 16th Karmapa was the main teacher of Lama Ole and Hannah Nydahl. He represents the qualities of the Buddha himself in the Meditation on the 16th Karmapa, the main practice in Diamond Way centers.
Thaye Dorje, His Holiness the 17th Gyalwa Karmapa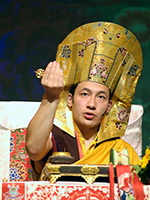 The oldest reincarnate lineage of Tibetan Buddhist masters is that of the Karmapas. The current 17th Karmapa, Thaye Dorje, is responsible for over 900 monasteries and Buddhist centers around the world, including Diamond Way centers.
Lama Ole Nydahl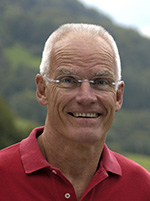 With his wife Hannah Nydahl, Lama Ole was given the task by his main teacher the 16th Karmapa to spread lay Karma Kagyu Buddhism in the West. Travelling constantly since the 1970s, he has founded over 600 Diamond Way Buddhist centers.

You can meet Lama Ole on one of his lectures, which he gives year round all over the world. The current traveling plan is available on his website.